eCoverly Review
This short eCoverly review should answer a few of the most important questions when thinking about eCoverly, as well as give you an overview of the eCoverly bonus offers that you can expect.
In the previous post, How to create awesome animated ecovers with eCoverly, I've touched the basics about the subject. The subject being animated ecovers for your ebooks, of course. While I have tried to put everything in one post, it simply was not feasible. Doing it would make it enormous, and I'm quite sure you don't want to read all afternoon. So, let's get into the eCoverly review.
What is eCoverly?
This was explained in length in the above mentioned post, but let's just repeat a single-sentence description.
eCoverly is a new ebook cover creator tool that allows you to create beautiful animated ecovers for your books, reports, podcasts, programs, and whatever you might need them for.
eCoverly demo
Here's a very short and fast-paced eCoverly demo that will give you a hint of the capabilities and functionality.
eCoverly cost and licensing
eCoverly will be available with a few licensing options. As usual, there will be a basic FE offer, accompanied by upgrade offers(OTO – One Time Offer). Let's tale a short look at each of the planned offers.
eCoverly  (Personal $37 / Commercial $47 / Premium Commercial $67)
eCoverly comes with a basic license (Front-end or FE) that will cost $37-$67, depending on the license. This means personal as well as commercial license will be available from the start, and you can pick whichever makes more sense to you. Personally, I don't see a reason for taking the personal license of eCoverly, as the Commercial license is quite more powerful.
Revolutionize your digital game with eCoverly, the world's first 3D animated & static eCover creator! Say goodbye to dull, static eCovers and hello to eye-catching, animated designs that will make your customers stop scrolling and start clicking.
Zero coding or design skills? No problem! eCoverly comes loaded with drop-dead gorgeous templates and models that are as easy to use as they are beautiful. Stand out in a saturated market and skyrocket your high ticket sales. It's time to bring your products to life like never before with eCoverly.
eCoverly FE eatures include:
✅ Animated Magic  – 40 animated templates
✅ Static Elegance   – 250 static templates
✅ Model Variety      – 20 (2D & 3D) ecover models
✅ AI Genius Editor   – Intelligent & effortless customization
✅ Visual Feast          – Extensive image and font libraries
✅ Image Library      – Clipart, stock images & upload your own
✅ Drag, Drop, Done –  Three easy steps to creating an ecover
✅ All In One              – No other software needed 
✅ Tune In                  – Builtin editor music player
✅ Anti-Theft             – Watermark engine for security
✅ Access Anywhere – Cloud based
eCoverly FE license comes with some bonuses:
⭐ Bonus: Easy step by step video tutorials
⭐ Bonus: Commercial license*
⭐ Bonus: Agency website*
⭐ Bonus: Client manager dashboard*
⭐ 30 Day satisfaction guarantee
⭐ 24/7 Customer support
⭐ Low one time price!
Upgrade 1: eCoverly Pro ($97/year or $297 one-time)
eCoverly Pro license enhances your eCoverly software with 150 additional animated eCover templates, 400 additional static cover templates and 40 additional model styles. Additionally, you'll get a very cool "1 click magic" tool that allows you to apply a single design to multiple models with a single click. This is really useful if you're designing a cover for a product that has lots of components (BOX, CD, AUDIO, REPORT, ETC). With it, you just click a button and your design is applied to all the elements of your package.
Features include:
✅ 150 more animated ecover templates
✅ 400 more static ecover templates
✅ 40 more ecover models
✅ 1-Click magic transformation
✅ More storage
✅ Limitless customization
✅ Superior features
✅ Upgraded power
✅ Free software updates
Now, let's be clear. You don't need this upgrade if you need to create animated ecovers for yourself only. You'll have enough material for that. But if you're playing it a bit bigger, take a closer look at it, because it can honestly give your business a strong push.
Again, there are some bonuses included:
⭐ Bonus: Commercial license
⭐ Bonus: 5000 Premium GIF Packs Bonus
⭐ Bonus: Easy step by step video tutorials
⭐ 30 Day satisfaction guarantee
⭐ 24/7 Customer support
⭐ Yearly Subscription OR Low one time price!
Upgrade 2: eCoverly Groupshots ($97)
Boost your sales with eCoverly Groupshots, offering 100 groupshot bundle ecovers and 100 real life mockups. Now you can make both animated and static ecovers for any digital product you can think of. These battle tested designs will elevate your high ticket programs. Just add your animated ecover designs to these bundles & mockups, and experience a surge in your sales.
eCoverly Groupshots features include:
✅ Groupshot Bundles – Display your ecovers inside custom designed groupshot bundles. 100 different style bundles to choose from!
✅ 100 Groupshot Bundles – Chose from 100 different style bundle to create both static and animated designs
✅ Mockup Skins – Display your ecovers inside the latest trendy real world devices like laptops, phones, monitors, tablets and many more! 100 different mockup skins to choose from!
✅ 100 Mockup Skins – Chose from 100 different style mockup skins to create both static and animated designs
✅ Customization – Create your own unique ecover bundles with customized styles & layouts

And the bonuses you'll get with eCoverly Groupshots are
⭐ Bonus: Commercial license
⭐ Bonus: Easy step by step video tutorials
⭐ 30 Day satisfaction guarantee
⭐ 24/7 Customer support
⭐ No monthly fees, one time payment!
Upgrade 3: eCoverly Prime ($47)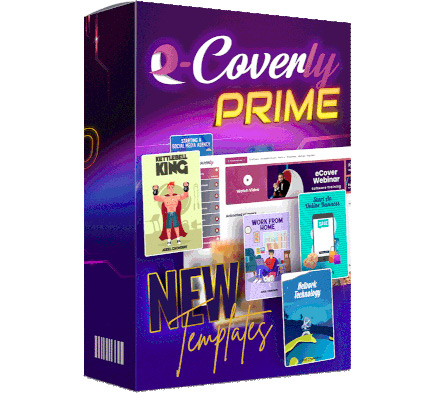 Join eCoverly Prime to enjoy a continuous supply of 360 niche templates for a whole one year without any monthly fees and start your own monthly ecover design service. Every month you will receive 30 fresh, exclusively crafted templates that you can sell to eager clients, keeping 100% of every sale. These niche designs will be made just for you, ensuring that you always have something unique to offer.
eCoverly Prime features include:

✅ 10 new Animated templates every month
✅ 20 new Static templates every month
✅ Adds more Animated backgrounds to your library
✅ Adds more static backgrounds to your library
✅ Adds more animation assets to your library
✅ Adds more images and media to your library
✅ Made exclusively for PRIME members only
✅ Includes the latest trending designs
✅ Designs across a variety of niche categories
✅ Unique handcrafted templates
✅ Hypnotizing designs that convert
Upgrade 4: eCoverly Gigs Hero ($47)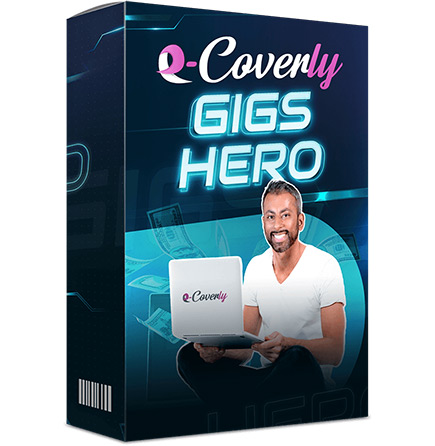 eCoverly Gigs Hero gets you new clients and gigs online instantly. It also comes ready with gigs management tools, custom profile and proposal templates saving you massive time from having to search and manage freelance jobs manually. You can finally get paid for creating animated ecovers for clients fast, easily making up to $250 to $1,000 per job!
eCoverly Gigs Hero features include:
✅ Auto Gigs Finder Software – Finds you unlimited new clients and gigs online so that you can make a profitable income using eCoverly!
✅ Instant Profile Templates – Done for you freelance profiles that you can edit and use immediately to help you look like a professional from day 1.
✅ Gig Proposal Templates – Speed up applications and increase your chances of winning a client job with our proven application templates!
✅ Bookmark Engine – Shortlist all the potential gigs that you want to and return to them when you're ready to apply!
✅ Job Tracker – Keep organized and a track of all your applications to clients to that you don't get confused!
Upgrade 5: eCoverly Agency ($97)
With eCoverly Agency Edition, you can launch a profitable $100,000+ a year Design Agency. It Includes everything you need, it is the complete agency kit to be your own boss. Also, you can deliver projects faster with teams. You can add 25 additional team members to your account to maximize your productivity, number of clients and revenue worldwide remotely.
eCoverly Agency Edition features include:
✅ One Big Team Account – Collaborate seamlessly with up to 25 team members on any project—each with their own secure login. Get work done faster, together.
✅ Ready Made Agency Business in a Box – Start a digital agency effortlessly with our all-in-one package, including promo materials and contracts.
✅ Done-For-You Promotional Web Banners – Attract new clients with ready-made, eye-catching web banners for your online platforms.
✅ Done-For-You Client Attraction Emails – Use our pre-written emails to reel in leads and introduce your agency.
✅ Done-For-You Client Proposal Brochures – Customizable brochures for pitching your services, complete with animated ecovers.
✅ Done-For-You Legal Binding Contracts – Protect your agency with customizable, professional contracts.
✅ Commercial Rights to Design eCovers for Clients – Offer ecover design services to clients, creating an additional revenue stream with nothing to worry commercial rights.
✅ 24 / 7 / 365 Business Support – Get round-the-clock assistance for any business query or project hiccup.
eCoverly Bonus
Besides the bonuses added to each license, there are a number of bonuses that you will get with your purchase. All the bonuses will be automatically delivered to you within your dashboard, so you don't need to search them around.
eCoverly bonus 1: 15 Additional Premium Templates
Ans additional bumper pack of 5 Animated and 10 static exclusive ecover templates! These are NOT available anywhere else.
eCoverly bonus 2: Commercial Licence
Get a FREE Commercial License that allows you to create and sell amazing 3D animated ecovers (and 2D eCovers) to your clients for sales and profits! (only available for eCoverly's frontend commercial and premium license customers)
eCoverly bonus 3: Free Agency Website
A FREE ready made agency website to attract new clients. The agency website includes a prefilled portfolio to sell your eCovers design services! (only available for eCoverlys frontend premium license customers)
eCoverly bonus 4: Client Portal App
Share designs and get feedback from clients directly inside your eCoverly Client Portal dashboard! They won't even know you're using eCoverly as your secret weapon! (only available for eCoverly's frontend commercial & premium license customers)
eCoverly bonus 5: GIF to Video Converter
This bonus APP turns your animated eCovers into videos! You'll be able to show them off in video form, upload them to video sites like YouTube, and get even more eyeballs!

eCoverly review: Final thoughts
Well, as with any tool, there are things I like and things I don't like so much with eCoverly. I'm sure you'll also find things like that, but let me just quickly summarize my own views.
What I don't really like
True, there's lots of templates inside eCoverly for you to use. But looking through them, I'm afraid a few of the static designs felt a bit dated. Not that they're not useful for certain cases, but still. We're talking prime software here, right?
What I did like
eCoverly is simple to use, fast and generous with results delivery. I can also say that
The created animated designs look very professional, slick, and really eye-catching
Easy to use drag and drop ecover editor
Many customization options to create unique covers
What I actually was thrilled about
Some things inside eCoverly were just so new to me that I have no comparison base ready for them. I can honestly say I have never even thought about animated ecovers before, so this was all a pretty new experience. Based on that, there were a few points that I just loved:
eCoverly easily creates stunning animated ecovers in seconds
It's very easy to collaborate with clients inside the commercial and agency dashboard
Last, but not least – eCoverly is way more affordable than other tools I have seen so far
eCoverly: My recommendation
There are some mixed feelings about eCoverly, and I hope I have succesfully presented them to you within this eCoverly review. When it comes to my recommendation, it's actually pretty straightforward.
Go and sign up for the launch webinar that will take place just an hour before the eCoverly cart opens. Adeel will give a full presentation of the software and its capabilities, so it's easier for you to make an informed decision.
As far as I know Adeel, he will also deliver some free licenses and extra bonuses to the attendees, as well as possibly some special cash rewards as he usually does. So why not have a chance of winning something for free?
Click the button below. Before the launch date (October 2nd, 11 AM EST), the link will let you register for the webinar. After this time, you'll get straight to the sales page where you can see a full demo and decide.
Thank you for reading my short eCoverly review and bonus post, I wish you all the best.
You may also like
---
We are in affiliate business with many of the vendors who's products we mention here and write reviews about, which means we could get a certain commission from them should you buy their product via our links. We are however not connected to them in any other way, nor we receive any special commissions for making good reviews. We try to hold our opinion fair and honest, giving you both the ups and downs where we see them. Everything written here is our own opinion and assessment of the possibilities that software provides.
---